Storm at Sea Tools - Diamond Rects and Square Squared
Quantity:



This product is currently unavailable



Order now! Limited quantities! Special pricing is good until August 11, 2017 or when sold out!
We all have a "Bucket List" quilt or two. You know the ones – you want to make it but don't really feel like you have the skills or the time. "Storm at Sea" was on my "Bucket List"! No paper piecing, no templates, no stress – making this quilt is fun!!! Using the Diamond Rects and the Square Squared tools you can make a Storm at Sea quilt. All our tools come with easy to follow instruction and free online videos.



Special Pricing and EXTRA BONUS! - I'm including my free pattern with your purchase!!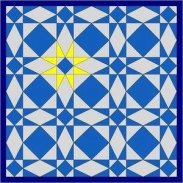 Check out my Pinterest Board Storm at Sea for some inspiration!

Click here for a blank Storm at Sea outline - design your own quilt!

Stress Free Storm at Sea is one of my most requested classes!

Diamond Rects
Now you can make those tough elongated diamond units needed for any Storm at Sea project with ease and success. But remember, this is a basic unit that can combine with any of the other fundamental units to create many, many other interesting designs and quilt projects. You'll precision cut the center diamond, then sew on side triangles to create an oversized unit that you'll trim down to the perfect size.

Download complete instructions here.

Details
Item # DT15
Ruler Size - approx. 11" x 11"
Unit Sizes available on tool - 5 options from 1" x 2" finished units to 5" x 10" finished units in whole inch increments
Step by step illustrated instructions
Illustrated instructions for left hand cutting and trimming
Fine lines for higher accuracy
Square Squared
Finally a tool that simplifies the construction of the Diamond Square unit without having to use paper foundation piecing. It is an all-in-one tool that gives you a window template for accurately cutting the center square, a chart printed right on the ruler for the recommended size to cut the triangles sewn to the four sides of the center square and a trim down section on the ruler that simplifies the alignment of ruler to fabric unit and allows everyone to clean up the unit to a precise measurement every time. You can see the tool demonstrated on our free online video demonstration. This unit is a tricky one to get accurate, but with the Square² tool and technique of oversizing and trimming down you'll have far better success than with any other product on the market.


Download complete instructions here.
Details
Item # DT09
Ruler size - 6 ½" x 12"
Unit sizes - 6 size options from 1" finished units to 6" finished units
Step by step illustrated instructions
Instructions for left hand cutting and trimming
Fine lines for high accuracy
These two tools retail for $ 46.00 - Special pricing until August 11, 2017 - $ 43.00 plus I'll include my Storm at Sea Pattern!!!